D
uring these trying times - economically speaking, that is - it's sometimes difficult to come up with gift ideas for - say - birthdays, baby showers, bridal showers, and holidays.
I like the word cheap but the apparent politically correct thing to say is inexpensive. Inexpensive gifts aren't necessarily lower quality these days. Stores where you find inexpensive items are pushing to get the more elite crowd into their buildings and to do so the items can not be substandard.
Still, to find a unique gift is not always easily achieved especially if the someone you're purchase for all ready has just about everything they'd ever want or need. This - of course - means dreaming up or using your imagination to either make or buy that unique gift you want to give.
Personalizing a gift is always a winner. You will never go wrong in buying or making something specific for the gift recipient with their name, nickname, a special date or a picture of some sort of something they are just ga-ga over. Here's a for instance: Three years ago, my mother wanted me to wood burn a picture she had of my dad sitting a horse with a deer in his lap. I scanned, traced then wood burned the image onto a plaque of soft wood from a local hobby store. For some it would be easy; for others not so much.
A walking stick made from a 1-inch-in-diameter sapling and allowing the kids to paint it with names, dates, pictures or whatever is a fun idea. So what if the receiver of the gift isn't into hiking? So what if the gift-receiver isn't into primitive or rustic decor? The point is to have fun and to give something personal.
Then there are gag gifts. Two years ago for my mother's birthday I gave her a partially used roll of toilet paper wrapped with a single sheet of paper around the middle. I had found and printed a really cute vintage image then added the words, "For the mom who has everything EXCEPT a partially used roll of toilet paper wrapped with a cute image." She got a kick out of it and still has it displayed in her spare bathroom for all to see.
During another event for Mother, I created cute snack sized candy wrappers, printed them and wrapped several snack sized chocolate bars; found a small vase, some Styrofoam, lollipop sticks and made her a candy bar bouquet. She absolutely went nuts over it; oooed and ahhhed like a small child.
Take a picture of something they love
like tulips, have a 5x7 or 8x10 printed then frame it, or put it on a T shirt, mug, magnet, or a keepsake plate. You can even add family photos of grandchildren, bride and groom, or an early picture of the gift recipient. These days it isn't hard to add photos to T shirts, mugs, key chains or other items. All you have to do is head to
Zazzle
where you'll find loads of gifts to personalize with photographs and your own wording.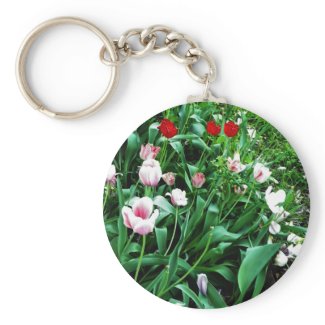 Featured here is a key chain with a picture of tulips I took not far from where I live.
Or, if you have kids have them draw a picture then apply it to a magnet. Of course, if you'll need a scanner or a friend who has a scanner to turn the works of art into digital files.
Paint a T shirt...
Here's a tutorial on
how to paint a t shir
t with acrylic craft paints. The paint DOES NOT wash out or stain other clothing in the washer. This is a perfect project for kids. And for the little kids who aren't quite ready to paint on their own, simply apply paint to their hands then press them on to the shirt to make hand prints for relatives or god parents.
Need other ideas? Just contact me and between the two of us we'll come up with something ideal for your gift recipient.
Have fun!